31 mar. 2009
Un Buen cover a la gran banda "Commando 9 MM"
Género:Afterpunk
País:España
Track:
01.-Amor Frenopático
DESCARGA
28 mar. 2009
Genero: Gothic Rock / Gothabilly / Horror punk
Pais: Polinia
Tracklist:
01.-Miguel and the Living Dead
02.-Aliens Wear Sunglasses
03.-Graveyard Love Song
04.-Salem's Lot
05.-Night of Terror
06.-Killer Klowns from Outer Space
07.-Black Magic Sex Terror
08.-Sexy Velvet Shadow
09.-Train of the Dead
10.-Ghostmaniac
11.-Alarm!!! (reprise)
DESCARGAR
19 mar. 2009
False Fases
Camp Z
Helloz
No Tears
The Dark
Violet Sky
Deadchovsky
Joy disaster
Object
Entre Muchas Otras Bandas Francesas Que Vale La Pena Oir, Unas Concidas Ya como  Deadchovsky o Joy disaster..


jouissance les principaux groupes de la scène "Dark" française!   :)









DESCARGAR DISCO 1
DESCARGAR DISCO 2

1 G (enerating)
2 The Holy City Of Karbala
3. Newspeak (Room 101)
4. Just 8o Miles West
5. Skritch 'N' Skrill
6 Vivid Still Beating
7 O (perating)
8. Orchids In Ruin
9 Cedric Krane
10. Within But Not Before
11 Sunday Went Mute
12 The Aftertaste
13 D (escending)
DESCARGAR
POr Fin y Despues de 1 mes y unos tantos dias subo algo...
mil Disculpas, Ahí les pondre varios posts, para compensar los dias pasados...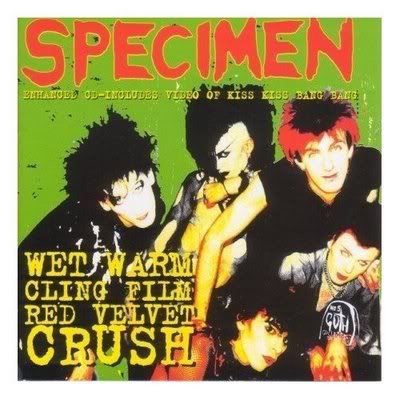 Género/Genre: Batcave
País /Country: UK

Tracklist:

01. kiss kiss bang bang
02. tell tail
03. beauty of poison
04. hex
05. returning from a journey
06 syria
07. dead man s autochop
08. stand up stand out
09. holes
10. lovers
11. sharp teeth pretty teeth
12. ooze (live)
13. wet warm clingfilm red velvet crush (live)
DESCARGAR